The Young Wan by Brendan O'Carroll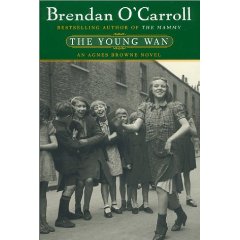 The Young Wan
Author: Brendan O'Carroll
Reader: Donada Peters
Short Review: A sweet, funny prequel to O'Carroll's earlier trilogy about Agnes Brown, read with great energy, humor, and personality by the incomparable Donada Peters.
Long Review: The Young Wan tells the story of Agnes Browne's early life and her parents' romance and marriage. Set in a 1940s working-class Dublin neighborhood, the book touches on the labor and Republican movements, the nascent women's rights movement, the old Dublin markets, class warfare, Dublin's flawed justice system, the power of the church, and a number of other weighty subjects without ever becoming heavy itself. The pain and difficulty of the most heartbreaking situations are alleviated throughout by humor and ingenuity, as Agnes Brown and her lifelong friend Marion find a solution for each problem.
It's not a magnum opus, this book, but it's fun and clever. Donada Peters' narration is wonderful, producing an audiobook that is better than its paper forebear. This book is a great example of audiobook's role in the development of storytelling: The narrator does what a great storyteller would, giving voice to several different characters, interpreting the novel as a great actor should, and giving her audience a peek into events (however imagined) they weren't able to witness personally. I recommend the book, and I think you'd be best served by listening to it rather than reading it on paper.

One Comment