The Wee Free Men: A Story of Discworld by Terry Pratchett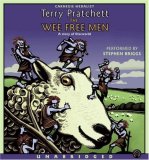 The Wee Free Men: A Story of Discworld


Author: Terry Pratchett

Reader: Stephen Briggs
Short Review: Fabulous and laugh-out-loud funny. Tiffany Aching, 9 year old witch-in-training, takes us on a wild ride to fairyland to rescue her baby brother and save the world from the evil queen. She has the help of the Nac Mac Feegle who happen to be 6 inch tall, fearless, phenomenally strong, kilt-wearing, blue-skinned, red-haired little men who speak with a strong Scottish brogue and are prone to thieving, drinking and fighting. Stephen Briggs reads this brilliantly. It is Terry Pratchett and Discworld at their best.
Long Review: 9 year old Tiffany Aching is good at making cheese. She is also blessed with First Sight, Second Thoughts and understands that a frying pan can make a mean weapon when necessary. When her ever-sticky baby brother gets kidnapped into fairyland, Tiffany follows to rescue him because it must be done – and even though she isn't sure she loves him, she is clear that he is HER brother and she wants him back.
At her back (and sometimes under her feet) are Rob Anybody and his band of Nac Mac Feegle. Nac Mac Feegle generally are feared by anyone who knows enough about them – but they respect and follow Tiffany because they already see her as the witch meant to replace her recently deceased Granny. Granny Aching was the sort of strong, solitary old woman who did what needed to be done. She was a witch in everything but name. She spoke little but always made sure to speak for those who had no voice. She protected her community (and its sheep) in ways most never understood but came to depend on. This story does tell of Tiffany's path of self-discovery – but don't let that fool you into thinking it isn't funny or entertaining. Tiffany makes a fine role model for any strong minded young girl (or boy for that matter) – but she does it within a story that delivers its message under the cover of laughter.
Stephen Briggs' voice brings this story to life. Every charcter is clear and distinct. He does an especially fine job with the strong Scottish brogue of the Nac Mac Feegle. I suspect that I understood a lot more of what those crazy little blue warriors were saying due to the craft of his reading than I would have had I read it in print.
This book is targeted at a young adult audience, but I enjoyed it immensely and recommend it to anyone of any age who enjoys funny fantasy books. If you haven't read Pratchett before, this is a fine first choice. If you already know and love the Discworld books – then you can't miss this one. Crivens! Get this audio book right away – you won't regret it.
The Wee Free Men is available on Audible.com

4 Comments