A Hat Full of Sky: The Continuing Adventures of Tiffany Aching and The Wee Free Men by Terry Pratchett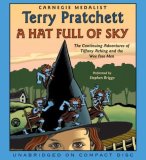 A Hat Full of Sky: The Continuing Adventures of Tiffany Aching and The Wee Free Men
Author: Terry Pratchett

Reader: Stephen Briggs
Short Review: If you loved Wee Free Men, you will love Hat Full of Sky. Same great reader – same fun mix of humor, youth, adventure and self-discovery. Tiffany Aching is now 11 and training with a mountain witch. She finds herself faced with a new opponent called a Hiver. It takes all her strength of will (plus the help of the Nac Mac Feegle and a number of other witches) to make it to the end of this entertaining story.
Long Review: Tiffany Aching, 11-year-old witch in training, returns in this sequel to Wee Free Men. The Feegles are keeping an eye on her as she takes the next step in her training to be a witch and moves in with a senior witch up in the mountains. Miss Level is odd. Most young witches assigned to her apparently don't last very long, but our very practical Tiffany takes her oddities in stride. We also meet a group of young witches who are all training with other mountain witches, so Tiffany gets to make some new friends. For Discworld fans, we also get decent screen time for Granny Weatherwax and an appearance by Death.
The main challenge Tiffany faces in this book is something called a Hiver, but in true Terry Pratchett style we are along for a ride that teaches Tiffany a lot more than how to do what others say can't be done. I don't want to say anything else about the plot, I hate spoilers!
Stephen Briggs is back with his fabulous voice and his nack for keeping all the characters clear and the Feegles understandable. I could listen to him all day. Aimed at young adults, I think people of all ages will enjoy this tale. Laugh out loud funny but with some nice messages about doing what must be done mixed in – I would recommend it to just about anyone.
A Hat Full of Sky is also available through both the Simply Audiobooks Rental Program and the Simply Audiobooks Dowload Club.

3 Comments