The Host: A Novel by Stephenie Meyer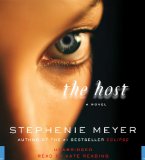 The Host: A Novel

Author: Stephenie Meyer

Reader: Kate Reading
Short Review: Meyer's first foray into sci-fi is very satisfying. Officially an adult novel (in contrast with the young adult label applied to the Twilight series), The Host explores a post-invasion world from the perspective of one of the invaders. It is well written, well read and is still haunting me weeks after I finished listening to it.
Long Review: Before listening to this book I had already listened to three other Meyer audio books (first 3 books of the Twilight Saga) and at least one other book read by Kate Reading – all of which I enjoyed. Initially Reading's choice of voice for the protagonist bugged me. Her tone was very flat and her reading rhythm very repetitive. But the story hooked me and I lasted long enough to realize that this voice was perfect for the protagonist and her inner thoughts. We spend this book in the mind of an alien not used to human emotions and motivations – an alien living in a human woman's body and struggling to make sense of it all.
For those who are used to the Twilight Saga, starting over in a new Meyer world might be a bit of a jolt. Rather than vampires and werewolves we have aliens and long-distance space travel. This is a world set apart from ours by major events, rather than the Twilight world in which the supernatural is alive in the midst of the world in which we live. But Meyer's stories are about characters finding their true paths – and this book is no different.
I don't want to tell you too much about the story. I want you to hear it and experience it and let it carry you along as it carried me. I will say that Meyer created some very real characters – alien and human alike. She explores what makes us human right alongside examining the experience of being an outsider, of being so different you think you will never find where you belong.
This is one of those books that grew on me in a very gradual way. I was startled to realize I had found another story that made me not want to get out of my car when I got home from work because that meant I had to stop listening. At the same time, as I neared the end of the book, I got sad at the thought of having to let go of these characters and their world. I started to ration the story so I could think about what might happen next. Once I was done – the main players stayed stuck in a corner of my head. I know I have found a 'keeper' when the people created by the author and brought to life by the reader stay with me long after the audio stops playing. Need a book like that? You found it!

3 Comments