Welcome to Bordertown: New Stories and Poems of the Borderlands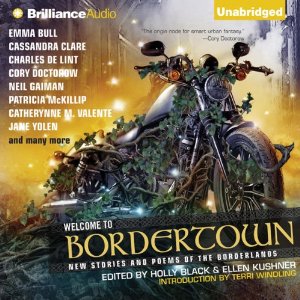 Welcome to Bordertown: Special Edition: New Stories and Poems of the Borderlands
Edited by: Ellen Kushner
and Holly Black

Readers: Holly Black
, Ellen Kushner
, MacLeod Andrews
, Steven Brust
, Neil Gaiman
, Dounya El-Mohtar
, Cassandra Campbell

Extras: Introduction by Terri Windling
. There is now a Special Edition version available featuring a fully-produced track of the song "Run Back Across the Border" by Steven Brust, with the author himself on lead vocals,  and Neil Gaiman reading his own poem, "The Song of the Song."
Short Review: A tantalizing collection of stories and poems from the city at the intersection of the elf and human worlds. We get stories featuring all kinds of characters including runaways, elves, humans, halfies, a bookstore owner, an entrepreneur, an artist, an astronomer, and more.
Long Review: If you are not familiar with Bordertown, this new anthology is a great introduction to the city on the border between the elf world and human world. In the mid 1980s, the Bordertown books paved the way for the popular urban fantasy genre many of us know and love today.
There is a lot to love here. The range of stories and poems was fairly balanced. Lots of points of view, lots of great readers. I warred with myself about posting this review before I even finished listening to all 15 discs, just so you all could know about it sooner – but I decided I wanted to get a sense of the full collection before posting my review.
The readers did a fabulous job across the board. I am often nervous when I see so many different readers for a collection like this, but I think they used the different voices to their advantage. They matched them well to the stories and poems.
One of the challenges of reviewing a collection of short stories is deciding if I am going to review each and every one of them. I have decided against it because I want you to have the joy of discovering them as you go, just as I did. I can tell you that I fell in love with Bordertown. It seemed obvious to me that the contributors to this collection love it too. There are a few stories here that I expect to stick with me for a long time.
The three introductions (one each by Terri Windling
, Ellen Kushner
, and Holly Black
) were a treat. This collection was my introduction to Bordertown and I appreciated being given the perspective of the history of the world and earlier anthologies and novels set there.
I loved the way that the stories weave together, touching each other here and there. The landscape is the same, but from different points of view. The protagonist in story A might show up or just pass through story B.
I have to admit I am more of a fan of the stories than the poems, but maybe I should just say that I think that the stories spoil me with their rich details. I did NOT hear the special edition version, so I might have appreciated Steven Brust's song more if I had heard it performed. (Wait, I just found a source for the song online: Steven Brust song "Run Back Across the Border" on Soundcloud!)
If you are still not sure, some of the stories are posted online or available via various podcasts. Check out the Welcome to Bordertown web page and scroll down to the bottom.
And if you do fall in love with it, there is a bunch of short stories and even novels which take place in this shared world. You can read more about the history of the Bordertown Series and see a full bibliography.