Bro Code for Parents: What to Expect When You're Awesome by Barney Stinson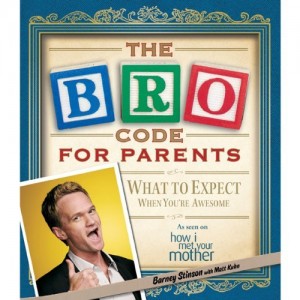 Bro Code for Parents: What to Expect When You're Awesome
Authors: Barney Stinson
and Matt Kuhn

Reader: Neil Patrick Harris
(as Barney Stinson)
Extras: CD Version includes 81 page PDF including worksheets, song lyrics, and full color art.
Short Review:  Quick and amusing. Fans of the TV show How I Met Your Mother will be giggling. Neil Patrick Harris reading as Barney is basically a 2 hour standup riff on the agony and trauma of becoming a parent.
Long Review: I don't know that I would have enjoyed this at all as a paper book. The joy here comes from the performance of Neil Patrick Harris as his How I Met Your Mother character Barney Stinson. If you don't know the show, you might still be amused – but you will miss a lot of side jokes along the way.
This is short – 2 discs running about 2 hours – but it made a great soundtrack for a short road trip. It might make a good gift for new parents to be, if they have a sense of humor and know the character already. You MUST of course take it with a very large grain of salt (or a pound or two of salt!). One of my favorite bits is where the audio producer comes on speaks directly to the listener reminding them to not take anything Barney says as serious advice.
Neil Patrick Harris sings. He imitates various baby cries and explains their meaning. He puts on the Barney show from start to finish. Probably funnier for those who have been through parenting (or have watched friends go through it). I found myself wanting to replay particularly funny bits for friends – always a good sign.