The Night Circus by Erin Morgenstern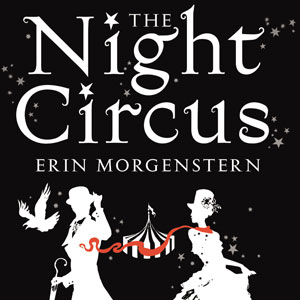 The Night Circus
Author: Erin Morgenstern
Reader: Jim Dale
Short Review: The Locus Award winning novel is an enthralling story of magic, love, and struggle beautifully read by Jim Dale.
Long Review: Two magicians who have been engaging in competitions for years decide to design a new tournament: one man's daughter vs. the other man's student. To provide an arena for their students' competitions, they create the Night Circus, which travels the world without any advertised schedule and opens at dusk to allow the public to view the acts and tents the two magicians' students develop.
Morgenstern's writing is enchanting, and she fills her novel with a number of compelling, interesting characters. The story sprawls a bit, but I find the breadth of it very enjoyable, much as I did Jonathan Strange and Mr. Norrell. This book is shorter and more accessible, but both are rich, detailed, and beautifully realized.
Morgenstern gives us people to love and people to hate: The magicians Hector Bowen (aka Prospero the Entertainer) and Alexander (aka Mr. A.H.) are both selfish, heartless monsters. Their students, Marco and Celia, are talented and brilliant and lovable but believable flawed. Several of the fans and performers in the circus are worthy of a great deal of attention: the clockmaker Friedrick Herr Thiessen, the boy Bailey who sneaks in and befriends a young performer, and on and on. And the descriptions of the magical feats Celia and Marco create are gorgeous.
Jim Dale, as usual, is a fantastic reader. I would listen to him recite from a phone book. His diction is crisp, his accent is comfortable and interesting to listen to, his pacing is excellent, and he clearly enjoys the material. I forget when I listen to a passable audiobook reader how much a talented actor can improve the experience of listening to a book, and then I hear someone like Dale and my listening patterns sway back to the fantastic side of the spectrum.
When all is said and done, I've listened to this book twice, and I am likely to listen to it every year or two from here on out. It's a beautiful combination of novel and reader. I adored it.