Boneshaker by Cherie Priest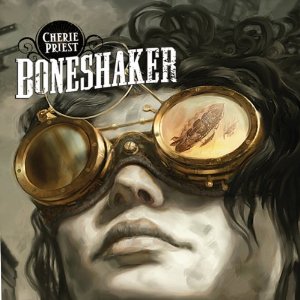 Author: Cherie Priest
Readers: Kate Reading and Will Wheaton
Short Review: A steampunk adventure set in an alternate-history Seattle where the Civil War just won't end, airships abound, mad scientists run amok, volcanoes make zombies, and intricate questions about liberty and rights continually rear their heads.
Long Review: For no good reason whatsoever, a paper copy of this book languished on my shelf for a few months before I finally broke down and bought the audio version. Initially, I'd been hesitant to listen to it because I was never a of Star Trek (I know, I know) so I didn't have any particular connection to Will Wheaton. I also hesitate to get hooked on series that are still being written. I finally got over it and dove right in, listened to the whole series, and then listened to them again. I'm itching to start a third time, but figure I can wait for the next installment.
Will Wheaton does a great job narrating the sections of the book following Zeke, a runaway teen trying to prove that his father was a good man. Kate Reading reads the sections following Zeke's mother Briar Wilkes, the daughter of Seattle's late Sheriff and widow of a disgraced scientist and inventor. I adored both readers, but I particularly fell for Kate Reading's voice. She strikes the perfect balance between Briar's strength and the desperation that she struggles with as she searches for her son and tries to survive the nightmare that Seattle has become in the wake of her husband's actions.
Priest is an excellent researcher, and this series really showcases her knowledge of 19th century American history. I'm often hesitant to read historical fiction or alternate histories because I find weak research so annoying, but there's nothing to worry about with Priest's books. She picks the perfect things to extend the Civil War in her story, and develops a creepy, fascinating plot to explain her changed Seattle.
Moreover, Priest develops excellent characters. Many series fizzle out after the first few books because the author only manages to build a few solid, interesting characters. With this book, Priest introduces a cast of fascinating people, all of whom I want to follow for book after book. The women she writes are particularly interesting, and Zeke reads true as a good but confused teen. Priest set the hook deep with Boneshaker, and I can't wait to see where she'll go with the rest of the series.

2 Comments