Break No Bones (Temperance Brennan Novel) by Kathy Reichs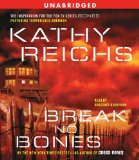 Break No Bones: A Novel (Temperance Brennan Novels)

Available on Audible.com
Author: Kathy Reichs

Reader: Dorothee Berryman
Short Review: A very average mystery delivered by a very average reader. I liked a lot of the characters, but it was really only my curiosity to know how the author would tie up the mystery that kept me listening.
Long Review: I decided to give this a listen after becoming a fan of the TV series Bones. I knew that the show had diverged from the books – but really it seems that there is not much more in common between the two beyond the name and chosen career of the Temperance Brennan.
On the positive side, I did like the main characters. The fabric of Tempe's  relationships is textured and believable. If this book has a saving grace, it is that there is a descent mystery on deck for solving.
On the negative side, the story seemed to spend a lot of time going in circles and the reader spent a lot of moistening her lips. I wonder if the series improved as it progressed. If you have read others in the series and recommend that I try another – please leave a note in the comments.
There is an audio preview of Break No Bones available, so you can see if you like the reader better than I did.

3 Comments