Seriously…I'm Kidding by Ellen DeGeneres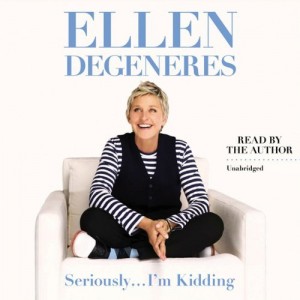 Seriously…I'm Kidding
Author: Ellen DeGeneres

Reader: Ellen DeGeneres
Short Review: Light and airy visit with the popular comedienne. Nothing too deep here, but it is fun to listen to Ellen share her upbeat cheerful thoughts and get a taste for her life beyond the public eye. Be prepared for some outright silliness.
Long Review: If you have seen Ellen DeGeneres doing standup or hosting her show, you have a good idea of what you are in for here. She is off the cuff, engaging, goofy and lighthearted. I gave this three and a half stars because it is not something I can imagine returning to – even though it did brighten the few afternoons I listened to it in the car. Clocking in at barely over three hours, this is a short happy ride of an audio adventure.
My favorite parts of this book are the little 'behind the scenes' tidbits she shares of her real life in the shadow of public moments. Parts of this are meandering thoughts, parts are closer to memoir. I haven't read any of her other writing, so I can't compare it to her other books. She does some fun things with the audio format, changing the text of some parts (to listener rather than reader for example) and even includes a short little chapter for her audiobook listeners.
I think this is one of those books that does better as an audio performance than it would on paper. Ellen clearly approaches this as a performance, and the audio book is all the better for it. If you like Ellen, you will likely enjoy this book. It would make for an easy cheerful afternoon.