The Book Thief by Marcus Zusak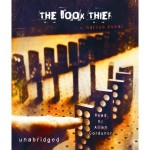 The Book Thief
Author: Markus Zusak
Reader: Allan Corduner
Available on Audible.com
Short Review: This is absolutely a fantastic audiobook. When next I need to convince someone that audiobooks are worth considering, I'll recommend this book first. It's gorgeously written, and beautifully read. Moreover, it's a book that truly matters.
Long Review: I feel like I gush too much when I review audiobooks here, in part because I'm much more likely to knuckle down and write reviews for the really great audiobooks I listen to. The mediocre ones leave me sad and listless and I'm loathe to criticize the work of writers and readers who didn't quite get it right. The truly bad ones–those I abandon.
This, however, is one of the best audiobooks I've ever listened to. It's the perfect combination of reader, type of story, and quality of writing. I feel almost as if someone studied my brain and designed an audiobook that I would fall madly in love with, and then produced it. Except that any attempt at that would fail horribly, and this book is just too exquisite. It's beautiful, and heart-rending, and funny, and well-researched, and clever, and important, and informative, and and and . . . I love it.
That said, it's seriously sad in parts. I'm not generally bothered by that, but I did consider it before diving in. Thankfully, it's also funny and uplifting and thoroughly true, in the way only excellent fiction can be true.
The main character of the book is Liesel Meminger, a young German girl who, right at the beginning of the story, becomes a stealer of books. Hence the title. The speaker, and I'm not spoiling anything with this, is death. Liesel is a fosterling, raised by the Hubermanns, a working class couple. The story begins before WWII and continues through the years of the war, as the Hubermanns wrestle with the place of ethical people in a terribly unethical state.
The paper book is fantastic, and well worth reading. But the audiobook, oh the audiobook. The audiobook is read by an absolute master. Allan Corduner is a musician as well as an actor, and he's also both Jewish and openly gay, which I think gives him particular incite into the subject matter of the book. He has the timing, and diction, and delivery abilities of a great actor. He has the sense of music a talented musician brings. But he also has that all-too-heavy personal connection to Jewish survivors of WWII. I'm sure another great actor could have done a good job with this book, but I can't think of anyone who would have done quite so well.

6 Comments