Hope in a Jar by Beth Harbison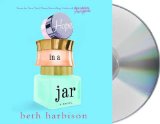 Hope in a Jar

Author: Beth Harbison
Reader: Orlagh Cassidy

Available on Audible.com
Short Review: Shallow beach-read sort of book. Estranged best friends reunited by twenty-year high school reunion. You probably already know if you would hate it based on this description.
Long Review: The reason this book got three stars is that the reader somehow manages to make you care just enough to keep you listening. This is not a book that will be in my 'listen again' pile, nor is it one that made me scheme reasons to be back in my car so I could listen to it more – but it was pleasant enough. I am not certain I could have finished it on paper. I am more likely to seek out other audio books read by Cassidy than I am to seek out Harbison's other works as an author.
Allie and Olivia are each at turning points in their lives as they face that dreaded social challenge: the twenty-year high school reunion. This novel touches a wide range of chick-lit standard subjects: love, parents, loneliness, childhood, and best friends. 'Hope in a Jar' frames the story with brand references to beauty products – mostly classics from the late 80s like Lip Smackers, Sun-In and Love's Baby Soft.
The characters are mostly like-able and the conclusion satisfying, if predictable. A solid choice for a lazy summer listen, just don't set your expectations too high.
Audio sample available online.