The Curse of Chalion by Lois McMaster Bujold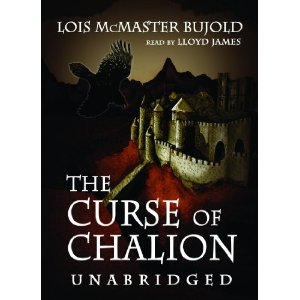 The Curse of Chalion
Author: Lois McMaster Bujold

Reader: Lloyd James
Short Review: Amazing storyteller + multiple fabulous characters + a rollicking fantasy adventure + the perfect voice to pull it all together = one darn good fantasy audio book experience.
Long Review: Bujold is one of my favorite authors. I originally found her through her popular Vorkosigan Saga Series
. This book was her first venture into fantasy after years and years of Sci-Fi. The story revolves around a smart, crusty, middle aged man with lots of aches and pains. We find Cazaril walking by the side of the road – dressed nearly in rags. Passing soldiers toss him a coin – not knowing his true identity. Bujold pulls us in and carries us along as Cazaril discovers the new path that awaits him in a life he considers almost worth ending.
One of the reasons I like her books so much is that her characters ring true. I actually care what happens to them. They have flaws. They get angry. Sometimes their clothing is too tight or the food is too rich – and you are right there with them experiencing their world.
Lloyd James hits the perfect note with his reading. He adds another layer of texture to the story, pulling you in deep. You get a fair warning that this is one of those books that makes you want to keep listening. I admit to having sat in my car after arriving at my destination "to reach a good stopping point" in the story.
You can listen to a sample online.

The Curse of Chalion