Fragile Things: Stories Fictions and Wonders by Neil Gaiman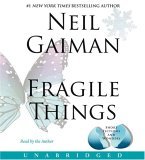 Fragile Things: Stories

Author: Neil Gaiman
Read by: Neil Gaiman
Short Review: An assortment of magical trips into assorted Gaiman worlds in the form of short stories and poem, all narrated by the gentle cadences of the authors voice.
Long Review: There are some authors who are not meant to read their own work. Neil Gaiman is definitively NOT one of those authors. I don't recall which audio book of his included his description of the first time he did a reading of his own work – but it described how it was this amazing revelation for him. It just had never occurred that he might both be good at reading aloud and enjoy it.
Fragile Things is a delightful collection of short stories and poems. It also includes a lengthy introduction that explains the background to each story. I am one of those people who loves knowing the history of every story (or song or poem) that enters my life. I like to learn about the creative process. If you are like me in this, then you will love the introduction. If you want to skip straight to the stories – you can always just skip the intro.
As I find is often the case with short story collections, some of the stories spoke to me more than others. I think my favorite is 'How to Talk to Girls At Parties' which was nominated for the 2007 Hugo Award. Lucky for you the audio of this single story is posted on Mr. Gaiman's website. If you have half hour to spare I recommend you listen to it right now!
Overall I really enjoyed this collection. My only slight frustration was hearing the introductions to ALL the stories at the start with no easy way to 'flip back' to scan them before I listened to each new story or poem as I might with the paper copy. But this is a very minor issue in comparison with the grand assortment of fanciful, otherworldly and (in some cases) disconcerting stories and poems provided for your listening pleasure.

Fragile Things