Over Sea, Under Stone by Susan Cooper (The Dark Is Rising Sequence)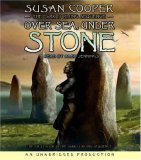 The Dark Is Rising Sequence, Book One: Over Sea, Under Stone (The Dark Is Rising Sequence)
Author: Susan Cooper
Reader: Alex Jennings
Short Review: This timeless story will spirit you away to a summer in Cornwall to join Simon, Jane, and Barney on a great and noble quest. Alex Jennings creates distinct voices for all the characters (especially for the three children) – and knits together a magical world for your enjoyment.
Long Review: My husband couldn't believe that I hadn't read this book as a child – but I never did. I really enjoyed this audio rendition. Written in 1965, this story has aged very well – the only way to tell it is set in the past is the lack of computers and cell phones. It is listed as being for Grades 5-7, but I loved it – and my 5 year old was absolutely captivated. His is quite crushed that we won't let him listen to the next one yet (I am told that it is a bit too grown up for him).
Alex Jennings does a nice job with the voices for the main characters – especially our three child protagonists Simon, Jane, and Barney. His reading of the descriptive passages is elegant and bring you along for the ride, be it into the cold night, warm sun or the wet sea.
This story really has it all. British accents? Check! Quest for mysterious Arthurian treasure? Check! Plucky kids doing what the grown ups can't? Check! Kids who actually talk and act like kids? Check!
This one is a keeper.
Over Sea, Under Stone is also available for download through the Simply Audiobooks Dowload Club.